I have been very busy the last couple of days! Our leather love seat was delivered on Monday.... and I have been pondering how to arrange the "Study" we have an awesomely warm fireplace in this room! The front of the house is like one long room, but we have made half of it the dining room and the other half "the study"... So yesterday when I went to town, I stopped by Sofa Mart and checked the back wall for dings and scratch items! I was looking for an end table and a chair, and was looking for something cheap! I hit the jackpot! The end table had some scratches on it and was marked $78. and I got him down to $50. for it and the chair was down to $178. and I got him down to $160.!!!! So I scored both for $210. plus taxes! So this morning I made a slipcover out of "Osenburg" fabric, (Thank you Aaron) kind of a mix between a linen and muslin and burlap.... I then made a couple of ruffled pillows and then I had this huge frame I spray painted black, and a huge letter "B" from Joann's... that I did a painting technique on and made some shabby flowers out of some left over material! I now have what I think is an awsome look going on in my new room!!!! We had dinner guests last night who got to see our new furniture and I think they approved! I fixed Beef Stew, (in my new cast iron dutch oven) and salad, cheddar cheese/garlic biscuits and a low cal dessert of angel food cake with lime jello and a hint of sour cream... with fat free cool whip! Hope you enjoyed the evening Robert and Michelle as much as we enjoyed having you out!
So now it is time for me to bore you with some pictures!
Wishing you a fabulous weekend full of God's Blessings!
Nancy
My awsome bargain.... with a little ding I will fix!
you can hardly see it! I will fix it!
and the chair!
looking from end of dining room into the "study"
My new look!
It is getting there!
I love it!
My crazy ruffled pillow that I had no idea of what I was doing!
another ruffled pillow!
my new looking ottoman!
What do you think???
The ottoman before the slipcover!
A picture tutorial of the slipcover making! I laid the material over the ottoman then took pins and pinned the corners that are draped...
see the pins?
I cut off the excess material and stiched it up!
I then tried it on my ottoman inside out.....
I took my acrylic measure board (whatever it is) and trimmed it all to the same heigth....
I then cut an appropriate length piece of material for the ruffle and hemmed it up before it was ruffled!
Ta Daaaaaa!

My huge frame which was free it was a bright gold so out came the black spray paint.... and the B that I distressed!
My favorite flowers to make .......
I just linked up to....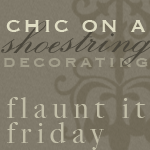 and

and
http://www.wildflowersandwhimsy.blogspot.com/