It has been a busy week here! Our anniversary was Monday, and yesterday was my Birthday! Mark took off 3 days this week and we had a great time getting some odd and end things done around the house.... namely the kitchen countertop! We actually started the project on Sunday night and got the primer painted on the countertops. (Remember when we were working on the kitchen and I said I had a technique I was going to do on the countertops? Well finally we have gotten to that!) Anyhow it was a several day project although it could easily be a weekend project!
Addi Cliks Interchangeable Needle Set!!!!!!! :)
So onto the countertops.... the granite kit was from Giani the same as the stainless paint I used for my backsplash! Yes, we could have put new countertops in, but then again we could of put new cabinets in also! I was trying to not break the bank on all that we have been doing to the house! I am satisfied with the look we have achieved and NO I am not stupid I know that they don't look completely like granite but it is new looking and fresh and I can live with it! Down the road we can put new countertops in if and when we decide and we will see how this holds up! The company has great reviews so I am hoping we have the same here! They sure have a wonderful sheen to them!
**** I have had questions about my backsplash so I will send you to another post about that... I used stainless steel paint from Giani to paint the old tiles! Here is the link
Kitchen redo
!
AND if you want to see what we did to the floor you can go to this link
Kitchen Floor
!

Here is the Link Giani Granite Countertop Kit the cost was $ 54.95 plus Shipping!
BEFORE
The countertops imperfections!
Another view of counters with just the primer!
TADA
My "I am hoping for Spring decorations"
I am linking up to
AND Frugal Fridays @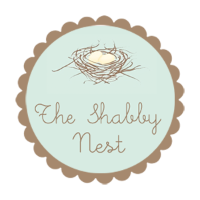 And
and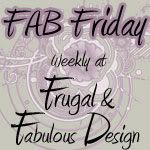 and
http://makingtheworldcuter.blogspot.com/
and